Buick's T-Bird fighter, the original Riviera, was a gentleman's muscle car, an executive express that offered luxury, high style, room for four, and power enough to embarrass many a performance car. The second-generation Rivieras that arrived in 1966 are considered by many to be the ultimate expression of the design theme, though their values generally lag behind those of the first-generation 1963-'65 cars.
The Riviera came about largely because of the huge success of the four-door Thunderbird, which was inspired in part by General Motors' Motorama dream cars of the 1950s.
"It was really frustrating to see the Ford guys poring over our Motorama show cars, the ones with the bucket seats, the personal cars, and literally taking measurements while the cars were still on the stands," William L. Mitchell, GM's former head of styling, grumbled in a 1981 issue of Automobile Quarterly magazine.
GM's design staff countered with their own idea for a personal luxury coupe. Mitchell wanted something like a cross between a Rolls-Royce and a Ferrari; what he got was one of the best-looking cars of post-war America. The question was, which division would produce it? Cadillac wanted no part of the new car--its production lines were already humming at full capacity. Chevrolet, too, said thanks, but no thanks.
GM's management decided to stage a contest among Buick, Oldsmobile and Pontiac, giving the divisions 60 days to make their pitches. Oldsmobile and Pontiac both wanted to make the car more sports-oriented, while Buick saw the car's potential for adding prestige and performance to its lineup, and promised to produce it unchanged. That was just what Mitchell wanted to hear.
The success of the GTO in 1964 ignited the horsepower race, prompting Buick to offer a Gran Sport option in 1965. "The Riviera with muscles on its muscles," Buick called it. Included in the package were a 360hp, 425-cu.in. Super Wildcat V-8, a Super Turbine 400 transmission recalibrated for higher shift speeds and a 3.42:1 axle ratio; available was a handling package that included stiffer, heavy-duty springs and shocks and faster steering.
The second-generation Riviera that debuted in 1966 was completely restyled, even cleaner and more chrome-free than the original. The elimination of front vent windows and the reshaping of the roofline into a graceful fastback produced a pure hardtop look. The headlamps were tucked up under the overhanging hood, descending when needed, eliminating the previous car's troublesome power-operated fender-front grilles that had concealed the headlamps. Delicately framed bumpers fitted nearly flush. Its length and width grew, and there was now room for three passengers in the back seat. Car Life magazine chose it as "Handsomest Car of 1966," against a field that included the new Oldsmobile Toronado. Car and Driver voted it "Best Full-Sized Sport Sedan" for 1966. The Gran Sport option, now badged as a GS, continued with a dressed-up version of the 425-cu.in. V-8, now the only engine choice across the line.
Buick knew it had a winner, and left the styling alone for 1967, satisfying itself with some minor changes to the grille and front bumper. The real news appeared under the hood, where a new 430-cu.in. V-8 replaced the 425. All Rivieras got the 430--in 1967, the GS option consisted of a special suspension, Posi-Traction differential, and red-line or white stripe tires.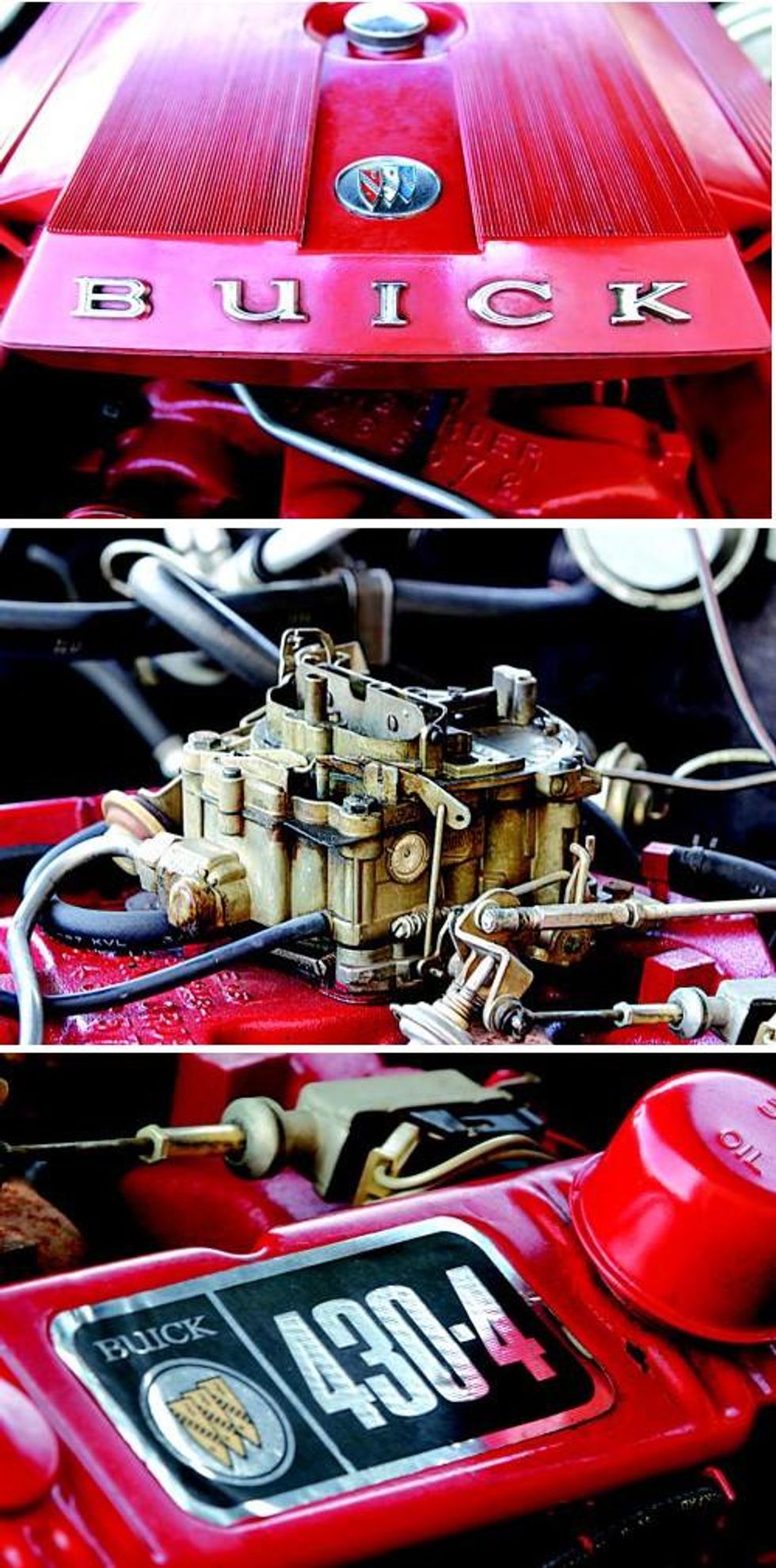 430-cu.in. V-8 produces 360hp at 5,000 rpm, fed by Quadrajet carburetor; the previous year's dual-quad setup was not offered
The Riviera GS is "the next overlooked muscle car," said Jerry Hammer, the owner of our 1967 feature car. "They've got a lot more going for them than a Chevelle or a GTO, for example; they're built much nicer and they drive much better. I put them in the category of 'luxury muscle.' You get the best of both worlds, fabulous looks and performance."
Between 1966 and 1967, Buick built 88,147 Rivieras, of which 10,555, or about 12 percent, had the GS option. As with many collector cars, the key to buying a Riviera GS is to get the most complete example you can afford. Experts tell us that not many parts are being manufactured, and many used parts are becoming scarce. Prices can be all over the map--we found a 1967 GS advertised for $5,500, and a 1966 GS with a factory-installed dual-carburetor setup for $40,000. Be sure you know what you're looking at--club members can help.
ENGINES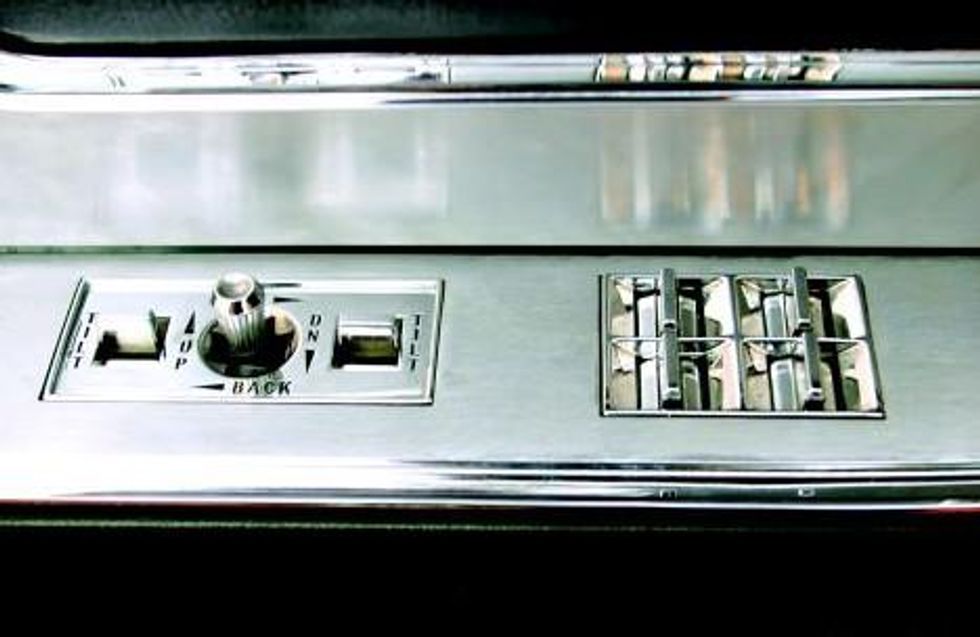 Switches for power windows and seats were shared with other GM products
All Rivieras for 1966 came with the 425-cu.in. "nailhead" V-8, nicknamed for its relatively small valves and their vertical arrangement in the head. These engines are identifiable by their upright rocker covers and rear-mounted distributors. The design dated back to 1953, when it took the place of the venerable straight-eight, powering millions of full-sized Buicks. The 425, marked with the code MW on the front lip of the engine block, was derived from the 401-cu.in. V-8, and shares a great many of that engine's parts. Nailheads are loved for the gobs of torque they produce and for their durability. The standard Riviera engine was a 425 equipped with a Quadrajet carburetor; GS models also got a large chromed air cleaner with a single snorkel and finned aluminum rocker arm covers bearing the Buick name in raised letters.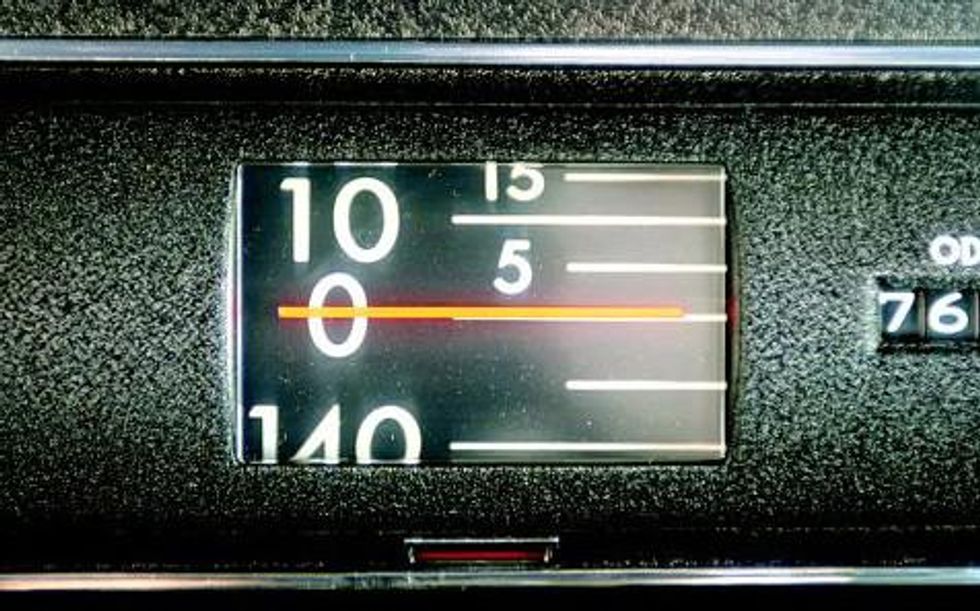 The drum speedometer was used only in 1965 and '66 Rivieras
(Video) All About the 1966-67 Buick Riviera: A Design and Mechanical Masterpiece
The dual four-barrel, 600cfm Carter AFB carburetor setup that had been part of the 1965 GS package became a factory option in March of 1966, and just 179 of these code MZ cars were produced; it could also be had as a dealer-installed option, in which case the engine would still wear the MW code. The dual-carburetor setup, which was accompanied by a dual-snorkel chromed air cleaner, is rated at 360hp at 4,400rpm and 465-lbs.ft. of torque at just 2,800 rpm, 20 horsepower more than the single 4-bbl. engine. Because of their distinctive looks, these engines are popular among street rodders, when they can find them.
In 1967, the nailhead had been put out to pasture, replaced in all Riveras by the all-new 430-cu.in. V-8 introduced that year, coded MD. These engines have angled rocker arm covers and front-mounted distributors. A 400-cu.in. version of the engine, similar in all but bore, was used in the Skylark/Special body GS series. The 430 made 360hp at 5,000 rpm and 475-lbs.ft. of torque at 3,200 rpm, with a compression ratio of 10.25:1. It featured larger crank bearing journals, an exceptionally strong nodular iron crankshaft, and heads similar to those introduced on the small-block 300- and 340-cu.in. V-8s introduced in 1961. These engines were equipped with a single Quadrajet, and there was no dual-carburetor option. Cloaking the Quadrajet on GS models was the wild, red fiberglass Star Wars air cleaner, so called because of its resemblance to something Han Solo might use to get from Tatooine to Dagobah. This is a smooth and durable engine; its main failing, a weakness in the design of the oil passages, can be addressed at rebuild time. This engine would grow to 455-cu.in. in later years, becoming the biggest of Buick's engines.
TRANSMISSIONS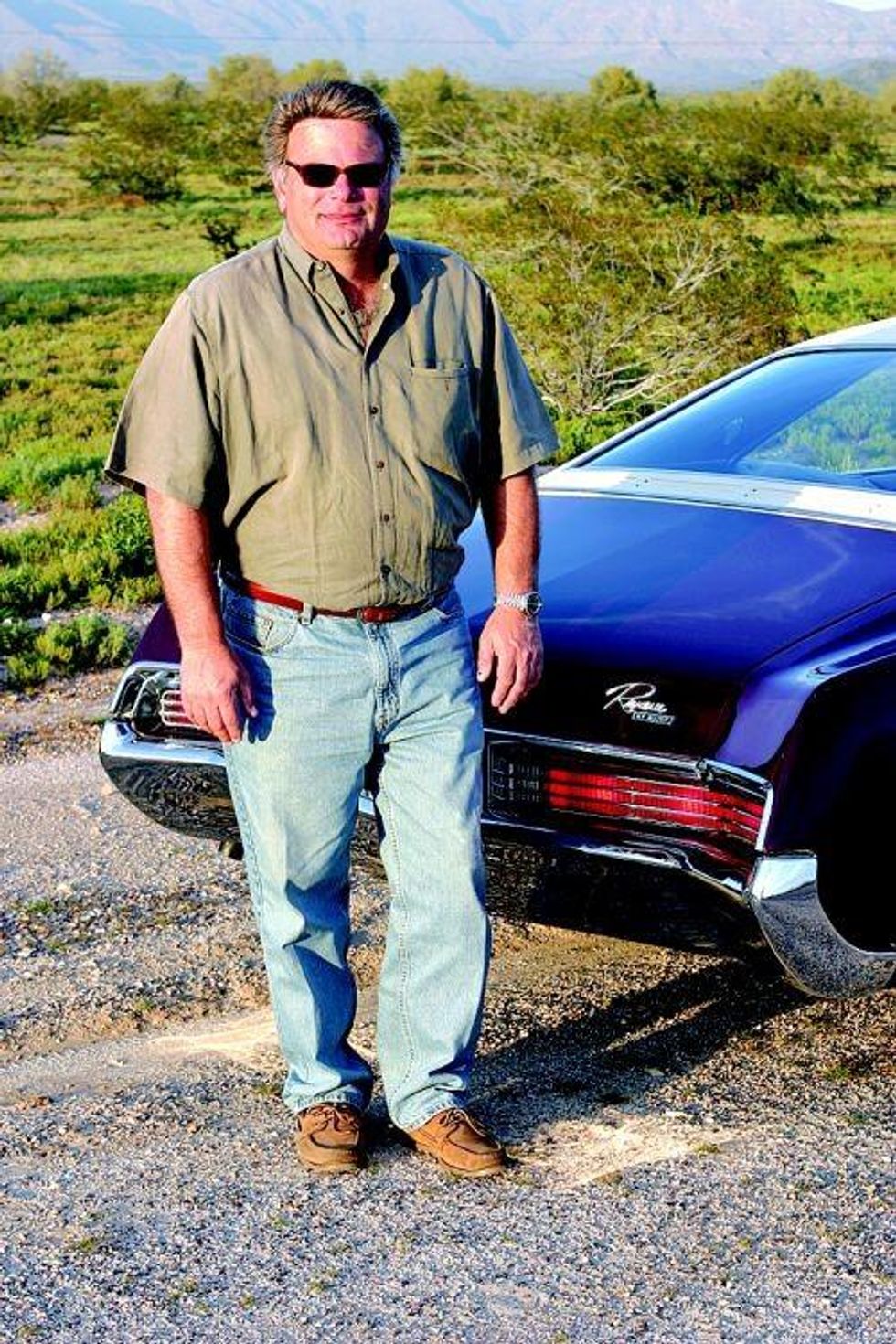 Owner Jerry Hammer
The Riviera GS was equipped with the three-speed Super Turbine 400 automatic transmission, Buick's name for the Turbo Hydra-Matic 400, which came with a variable pitch torque converter for quicker launches. Recalibrated to allow shifts at higher rpm and featuring a reinforced valve body, the GS transmission wore a BS code on its identification tag. The variable-pitch stator, known by the name Switch-Pitch, was used by Cadillac and Oldsmobile as well between 1965 and 1967, and developed a following in the drag racing community. The Super Turbine 400 used in the 1964-1966 cars will bolt up only to nailheads, which used their own pattern. Adapters are available to mate a nailhead to a transmission with a Chevrolet bolt pattern. The easy way to identify a Switch-Pitch unit is by the horseshoe-shaped indentation in the pan, which is where the filter picks up the fluid.
Jim Bell, president of Kenne Bell of Rancho Cucamonga, California, and an expert in high-performance Buick V-8s, is a big fan of the Switch-Pitch torque converter. "It gives you all the advantages of a high-stall torque converter with none of the disadvantages," he said.
Like the regular Turbo Hydra-Matic 400, the Super Turbine 400 has a reputation for being bulletproof. Car and Driver, in a road test, referred to the Super Turbine as "without question, the best automatic transmission in the world."
DIFFERENTIALS
Rivieras used 10-bolt differentials of a design shared by Buick and Oldsmobile. These are strong units, and can withstand a lot of abuse. In 1966 and '67, the Riviera Gran Sport was equipped with a limited-slip differential with a 3.42:1 ratio, with options up to 3.91:1. The code can be found on the bottom of the right axle tube, three inches from the housing; 1966 cars should bear an "x" in a circle for the locking axle, and a 3 over a 42 for the ratio. For 1967, there should be a PY code, again denoting the 3.42:1 ratio and locking axle. The limited-slip unit did its job well: "Acceleration is quiet with no excessive wheelspin, no indication of power--suddenly you're gone without effort," Cars magazine said.
SUSPENSION
The Riviera's underpinnings were straightforward, with independent, unequal length wishbones and coil springs up front, and a live axle with trailing links, coil springs and a Panhard rod out back. The rear suspension was redesigned for 1966, by moving the springs from the lower control arms to the axle itself, to bring "squat" on acceleration under better control. All 1965-'66 Gran Sports featured firmer springs and shock absorbers. The quick 15:1 steering ratio was available across the line, but was not part of the GS package. "Handling in the Riviera takes the driver by surprise," Cars magazine reported. "It is probably the best handling of any large, full-sized American luxury car and is far above any comparable European car."
BRAKES
For 1966, all Rivieras had Buick's 12-inch Al-Fin aluminum drum brakes all around, with power assist standard. These were more resistant to fade than cars with iron drums, although Britain's Autocar magazine was able to render the car brakeless after three panic stops. In 1967, Buick offered front discs with Bendix four-piston calipers as a $79 option. Just 6 percent of Riviera buyers chose the new brakes.
CHASSIS
The Riviera grew in every dimension for 1966, as it shared a new bodyshell with the Toronado, so Buick's engineers designed a new cruciform frame with a 119-inch wheelbase, two inches longer than the previous year's. Front track jumped from 60.0 inches to 63.4 inches, rear track increased from 59.0 inches to 63.0 inches, and overall length grew from 208 inches to 211.2 inches. The car gained just 14 pounds for 1966, tipping the scales at 4,180 pounds, but ballooned to 4,420 pounds for 1967, the difference accounted for by the new 430-cu.in. engine. It's rare for corrosion to affect the beefy, X-frame chassis.
WHEELS AND TIRES
(Video) 1966 Buick Riviera GS Gran Sport Factory Dual Quad 425 Engine & Ride My Car Story with Lou Costabile
Riviera buyers had their choice of whitewall or redline tires, 8.45 x 15 2-ply tires with a 4-ply rating, with H-17/15 wide ovals becoming available in 1967. In January of 1967, 225 R-15 whitewall radials became an extra-cost option on all full-sized Buicks. Besides the standard hubcap, buyers could opt for chrome road wheels, or wire-wheel hubcaps with spinners.
BODY
The two arch-enemies of the Riviera are corrosion, and motorists who park by ear. It's a big car with protruding fenders, and susceptible to parking-lot miscues. The hood projects beyond the bumper, which means that its chromed, cast-metal trim piece is particularly vulnerable, and hard to find in good condition. Rust can take hold in the rear wheel wells, floorboards, trunk floor, and corners of the windshield and rear window, where rain leaks in.
Red GS emblems--block letters in 1966, and italic in 1967--are the most obvious identifying marks of these cars. One way to be sure you're looking at a genuine GS is to check inside the fender to be sure there are no metal curlicues indicating that someone has drilled holes in the fender. Also, the "Riviera" should precede the "GS"--if you see "GS Riviera," start asking questions. There were no GS emblems on the rear of the car.
To know at a glance which year Riviera you're looking at, look for a thick horizontal bar across the middle of the grille; if it has one, it's a 1967. The later cars also have "Riviera" script on the hood in place of block letters, and panels around the taillamps painted body color, not silver.
Unlike its 1965 counterpart, the motor that lowers and raises the headlamps was not particularly trouble-prone. In 1967 models, the headlamps could be operated with the jack handle if the motor failed.
INTERIORS
GS interiors deviated from the rest of the Riviera line in one tiny way: a "Riviera GS" emblem on the glove box door in 1966 only. Otherwise, they were the same as the rest, offering comfort and opulence in either standard or deluxe trim. In 1966, for the first time, buyers could opt for a bench seat in the Riviera, or choose buckets as a no-cost option. Headrests were optional. The Strato-Bench, with a folding armrest and seat backs similar to the bucket seat, was available at extra cost, and could be had with vinyl or vinyl and cloth upholstery. The two years of production were similar, with changes only to the seat patterns and the look of the standard door panels.
A "Circulaire" air ventilation system was built in to keep the cabin comfortable. Although some at GM fought the deletion of the vent windows, Mitchell brushed their arguments aside, saying, "Hell, this was the same kind of thinking that said we shouldn't have eliminated the running boards."
REPRODUCTION PARTS
Very little is being made specifically for the 1966-'67 Riviera, because of the cars' relatively low production numbers compared with, say, a '66 Mustang. Larry Daisey of the Riviera Ranch in Riverside, California, said he considered making reproduction taillamps until he got a quote for the tooling: $16,000. "At that price, I'd have to charge $1,000 each," he laughed.
Mechanical bits are the easiest to find. Parts for the 425-cu.in. engine are available, though some are pricey, and many of the parts used in the 401-cu.in. nailhead will interchange, said Dave Somerville of TA Performance Products, a Scottsdale, Arizona company specializing in Buick V-6 and V-8 engines. "I can't think of anything that you can't get for them," he said.
Parts for the 430-cu.in. engine are also readily available, with one major exception: the Star Wars air cleaner. This part, used only on the 1967 Riviera GS and the 1967 GS-400, can be very hard to find with all its parts intact; if it's missing on the car you're considering, Daisey suggests that you budget at least $800 for a replacement--and don't expect to find one waiting on a supplier's shelf.
Correct brake parts can take some searching. Used discs in good shape are about $400, and used drums can sell for $200 or more. Pads and shoes are easy to come by. Springs can sag after four decades of service, but replacements are available, and there's no challenge in finding front end parts such as ball joints and tie rod ends.
The vinyl used in Riviera interiors was of high quality and tends to last, which is a good thing because seat kits are not available. Vinyl in the original grain and colors can be found, as can embossed door panels for both years in standard and deluxe trim. Another alternative is a used seat with good upholstery; these sell for $150 to $200. Carpeting and headliners are also available--in fact, the Riviera's floorpan in 1966-'67 was shared with the Toronado, so carpets for one will fit the other.
Sheet metal is in short supply. NOS supplies dried up years ago, and donor cars with good fenders, doors and quarter panels are becoming increasingly scarce. A decent, rust-free rear quarter panel commands $500 to $600, said Jerry Hammer. Trim, too, is scarce, particularly the cast hood molding. "Whenever I find 'em, I buy 'em," said Larry Daisey. "Some pieces of chrome just aren't out there anymore--and if you do find it, you'd best be sitting down when I tell you the price."
(Video) Aesthetic Perfection: 1967 Buick Riviera Walkaround and Drive
The great majority of Rivieras were equipped with air conditioning, and parts can be found; a popular and often less costly alternative is to install all-new parts from Vintage Air or Old Air, both located in Texas.
GM's Heritage Center does not have copies of invoices for Buicks older than 1982, nor do the Buick archives of the Sloan Museum (www.sloanmuseum.org). GM will research and provide photos of 1966 and '67 Rivieras, and will research a specific car in its archives for a $50 per hour fee. Contact the Heritage Center at 586-276-0691.
PERFORMANCE PARTS
There are still a number of specialists interested in making the nailhead go faster. Forged, lightweight pistons cost about $900 a set, and performance camshafts can be sourced from Kenne Bell. Performance intake manifolds and a range of carburetors are also available. There's practically no limit to what can be done, given enough time and money; some enthusiasts have replumbed the heads to switch the intake and exhaust valves, to reduce the engine's main weakness, restricted breathing. Headers are a less drastic solution for the same issue. Swapping out the nailhead for another engine will require a transmission swap, too, because the nailhead has its own bolt pattern.
The 430 is generally stout, although its oiling issues should be addressed if performance upgrades are being considered. "A lot of guys are dropping 455s in them now," said Daisey. The 455-cu.in. engine shares the same block and will bolt right up to a 1966 or later Super Turbine 400.
CHASSIS UPGRADES
For a two-ton-plus piece of machinery, the Riviera handles pretty well, which is quite a testament to the skill of Buick's engineers. Modern gas-charged shock absorbers and polyurethane bushings may sharpen the handling up a bit, though there's likely to be a tradeoff in ride quality. Buick offered radial tires as an option back in 1967, and they're still a good idea.
Riviera owners unconcerned about originality can improve the car's braking performance by installing a disc brake conversion kit that uses readily available parts; figure about $400 for the kit, plus the cost of the used parts.
Owner's View
When shopping for a Riviera GS, "the cheapest thing you can do is to buy the best car you can. In the long run, you'll profit more from it," says Jerry Hammer, the owner of our 1967 feature car and the proprietor of GM Obsolete, which supplies parts for Buicks, Cadillacs and Oldsmobiles from the 1950s to the mid-1980s. Hammer follows his own advice; this car, bought through a Web site, is all original but for its paintwork.
What attracted Hammer to the Riviera? "It's the looks. It's really the body lines that attract people," he said. "Everybody loves Rivieras. You have your Eldorados and your Toronados, but they're not the same caliber of car--they're front-wheel-drive cars. A rear-wheel-drive car like the Riviera will always be a superior driving car."--David LaChance
Values
1966-'67 Buick Riviera GS
*1966 cars factory-equipped with the dual-carburetor setup can command an additional $10,000 or more
Parts Prices
Club Scene
(Video) Frame Off Rotisserie Restored 1967 Buick Riviera GS | REVIEW SERIES [4k]
Riviera Owners Association
P.O. Box 37
Beatrice, Nebraska 68310
www.rivowners.org
Dues: $30/year; Membership: 3,200
Buick Club of America
PO Box 360775
Columbus, Ohio 43236
www.buickclub.org
Dues: $35/year; Membership: 10,000
Buick GS Club of America
625 Pine Point Circle
Valdosta, Georgia 31602
912-244-0577
Dues: $35/year; Membership: 5,500
FAQs
Total 1966 Riviera production was 45,348, of which 5,718 were equipped with the GS package. Of those, only 179 featured the Super Wildcat 360-hp 425 from the factory; it's unknown how many more were installed as over-the-counter components at the dealership level.
What is the difference between a 1966 and 1967 Buick Riviera? ›
The car gained just 14 pounds for 1966, tipping the scales at 4,180 pounds, but ballooned to 4,420 pounds for 1967, the difference accounted for by the new 430-cu.in. engine. It's rare for corrosion to affect the beefy, X-frame chassis.
What's the value of a 1966 Buick Riviera? ›
How to identify 1966 Buick Riviera GS? ›
1966 was the first year that Buick use the GS abbreviation on the Riviera rather than having Gran Sport spelled out as they did in '65. The red GS emblems that were attached to the front fenders were in large block form (unique to the '66 models).
What engine came in a 1966 Buick Riviera? ›
Standard engine in all 1966 Rivieras was the "Wildcat 465" 425-cubic-inch V-8 with 340 horsepower at 4400 rpm and 465 lb-ft of torque. It breathed through a four-barrel carburetor, had a 10.25:1 compression ratio, and required premium fuel. Standard transmission was the three-speed Super Turbine automatic.
What engines were available 1966 Buick Riviera? ›
Was the Buick Riviera fast? ›
The Riviera was introduced on October, 1962 as a 1963 at a base price of $4,333 with options that could run up to $5,000. Motor Trend tested them at 0–60 mph and found them able to go the distance in 8 seconds or less, the standing quarter mile in about 16 seconds, and an observed top speed of 115 miles per hour.
Is a 1966 Buick Riviera front-wheel drive? ›
The Buick Riviera received its first major redesign in 1966, sharing the new E-Body with the Oldsmobile Toronado and upcoming 1967 Cadillac Eldorado. However, the latter two were front-wheel drive while the Riviera maintained its traditional front-engine rear-wheel drive.
Is a Buick Riviera a muscle car? ›
Buick Riviera was an upscale muscle car that fused luxury and sportiness into one car in an attempt to topple the Ford Thunderbird.
What is the mpg on a 1966 Buick Riviera? ›
Based on data from 1 vehicles, 23 fuel-ups and 1,531 miles of driving, the 1966 Buick Riviera gets a combined Avg MPG of 6.80 with a 1.15 MPG margin of error.
Unlike the fleet of GM intermediates, the only transmission offered in the Riviera GS was the Super Turbine 400 three-speed automatic; it was Buick's chosen name for the corporate Turbo Hydra-Matic 400.
Was the Buick Riviera supposed to be a Cadillac? ›
The Riviera was originally intended to be a Cadillac

The Riviera lacked Buick's design DNA because it was originally designed by GM design chief William Mitchell to be a Cadillac. The car's code name was the LaSalle.
What year did Buick Riviera have clamshell headlights? ›
1965 was the only year for the hide-away clam-shell headlights, and as you can see in the video they work!
What year did Buick Riviera have hidden headlights? ›
On the 1965 model, the headlamps were vertically arranged and hidden behind clamshell doors in the leading edges of the fenders. This was the way the Riviera was originally intended to look.
Is the 1967 Buick Riviera a muscle car? ›
Buick's T-Bird fighter, the original Riviera, was a gentleman's muscle car, an executive express that offered luxury, high style, room for four, and power enough to embarrass many a performance car.
Is a Buick Riviera supercharged? ›
Engine: Supercharged 3.8-liter V-6. Horsepower: 240 at 5,200 rpm.
What body is a 1966 Buick Riviera? ›
The Buick Riviera received its first major redesign in 1966, sharing the new E-Body with the Oldsmobile Toronado and upcoming 1967 Cadillac Eldorado.
What was the original price of a Buick Riviera? ›
History of the 1968 Buick Riviera

Base price was $4,615, making the '68 Riviera Buick's most expensive model. The Riviera's engine remained the 430 cid V-8, now good for 360 bhp, though additional weight slowed it slightly to 0-60 mph in 8.1 seconds and a 15.9 second quarter-mile.
What was the oldsmobile version of the Buick Riviera? ›
The Oldsmobile Toronado and the Buick Riviera both used the E-body chassis, but while the Toronado paired its big block V8 with front-wheel drive, the Riviera stubbornly stuck to its rear-wheel drive roots.
What models did Buick make in 1966? ›
That meant the GNX could hit 60 mph from a standstill in 4.7 seconds, according to Car and Driver. To put that in perspective, this was faster than the Corvettes, Ferraris, Porsches, and even the Lamborghini Countach. For a brief period, the fastest production in the world was the Buick GNX.
What year was the fastest Buick Riviera? ›
In the end, the 1971 Buick Riviera GS wore a unique cruiser body hiding a 445 cubic inch V8 engine under the hood. This can churn out 455-lb ft torque and 330 hp giving the 1971 Riviera up to 134 mph of top speed.
What year was the Buick Riviera supercharged? ›
After decades of mediocre personal luxury coupes from Buick, 1995 brought a stunning new Riviera that sought to recapture its performance roots with an optional supercharged V6 engine.
Who designed the 1966 Buick Riviera? ›
Designer Ned Nickles, in one of GM's advanced styling studios, kicked off the original Buick Riviera with those big twin parking lamps on the fronts of the fenders. He originally conceived the car not as a Buick, but as a four-place Cadillac.
What year was the Buick Riviera in Roadhouse? ›
In 1989's seminal film 'Roadhouse,' the protagonist Dalton is actually seen driving two Rivieras, a 1963 in the opening credits, and later, a 1965—the latter playing a more prominent role in the film.
What is the gas mileage on a 1965 Buick Riviera? ›
Based on data from 1 vehicles, 12 fuel-ups and 1,142 miles of driving, the 1965 Buick Riviera gets a combined Avg MPG of 10.62 with a 1.55 MPG margin of error.
What was the most popular Buick Riviera? ›
The 1971-1972 Riviera "Boat-Tail" is probably the most legendary Riviera, if not one of the best-known Buicks.
What is the fastest old school muscle car? ›
Fastest Classic Muscle Car: 1964 Pontiac GTO

Designed by John DeLorean, Russell Gee, and Bill Collins, it could go from zero to 60 mph in little more than 6.6 seconds.
What was the biggest Buick ever made? ›
The Buick Electra 225 nameplate was introduced in 1959, with the "225" referencing the model's overall length in inches. By 1975, the Electra grew to become the longest vehicle ever produced by Buick. It measured 233.7 inches from bumper to bumper.
What size is a 1966 Buick Riviera? ›
The 1966 Buick Riviera measures 78.80 inches in width, The 1966 Buick Riviera measures 211.20 inches in length, and has a wheelbase of 119.00 inches.
Which Buick Gets the Best Gas Mileage? Offering up to 29 city mpg and 32 highway mpg, the 2022 Buick Encore GX is the most fuel-efficient model in the current Buick lineup. The 2022 Encore SUV follows just behind, delivering 24 city mpg and 32 highway mpg.
What car has 132 mpg? ›
Who owns Buick? ›
Whether you're the proud owner of a Buick vehicle or you're still trying to decide which Buick model is best for you, you may be curious about who owns Buick. Buick is owned by General Motors (GM). General Motors also owns GMC, Cadillac, and Chevrolet.
How can you tell if a transmission is Ford O Matic? ›
Transmission ID numbers were three digits long from 1951-'54 and started with "1P"; 1955 and newer Ford-O-Matic ID numbers were four letters and started with "P." The ID number will tell you if you have the small, 97⁄8-inch case or the medium, 107⁄32-inch Merc-O-Matic case.
What year did Buick come out with automatic transmission? ›
By the fall of 1945, automobile production resumed. In 1948, the Dynaflow automatic transmission was first offered by Buick. 1949 saw the debut of Buick's VentiPorts.
What is the rarest Buick Grand National? ›
The less powerful (but still more robust than a stock Regal) Grand National was made from 1982-1987. We'll skip the line-by-line distinctions. But basically, the GNX is the rarest of the upgraded Buick Regals from the 1980s. Read on to learn more unique aspects of the GNX.
How much was a Buick in 1966? ›
Priced from $4,408 new, the 1966 Riviera struck a chord with buyers, selling much better with 45,348 produced that year.
What year Buick Grand National was the fastest? ›
The 1987 model was both the most powerful of the Grand Nationals, producing 245 bhp and 355 lb ft of torque and outpacing its V8 contemporaries like the Corvette and the Camaro. Car and Driver magazine clocked the '87 at 4.9 seconds in the 0 – 60 mph dash, faster than the Lamborghini Countach.
What year is the best Grand National? ›
Today, Grand Nationals are on every list of collectible American cars of the 1980s— the most desirable being the 1986s and last-of-the-line '87s.
What was the highest selling Grand National? ›
Expectations were high for the last 1987 Buick Grand National ever built when it crossed the auction block with no reserve at Barrett-Jackson's Scottsdale auction on January 29. Those expectations were met and exceeded when it hammered for a shocking $550,000.
1966: Volkswagen Type 2 Camper Bus

Aside from the muscle cars of the 1950s and early 1960s, no vehicle is as synonymous with an era than the VW microbus.
What does GS stand for in Buick? ›
They stand for Gran Sport, and they have a history going back to 1965 at Buick. Notably, it was used to designate the brand's muscle cars until the early 1970s.
What does GS stand for in Buick GS? ›
The 1971 Buick GS, an acronym for Gran Sport, is a nice piece of pure American Muscle featuring sleek body lines paired with potent performance. The Gran Sport was thrown on multiple high-performing cars that Buick put out dating back to 1965.
Is a Buick GS a muscle car? ›
1965 Buick Skylark Gran Sport

Buick ventured into the world of muscle cars and created their own masterpiece following the triumph of the 1964 Pontiac GTO.